4 Easy Ways to Register!
Online
Create account and access program registration through the online registration platform (Active Net).
Drop-Off
Just stop by or bring your completed registration form and payment to one of our facilities during open hours:
Hopkins Admininstrative Office
1403 Sycamore Road
DeKalb, IL 60115

Sports & Recreation Center
1765 S. 4th Street
DeKalb, IL 60115
Haish Gym
303 S. 9th Street
DeKalb, IL 60115
Phone
Hopkins Admin (815) 758-6663
Haish Gym (815) 756-8560
Sports & Rec Center (815) 758-7756
Mail-In
Mail your completed registration form and payment to:
DeKalb Park District
Haish Gym
303 S. 9th Street
DeKalb, IL 60115
Please mail your registration in promptly to avoid class cancellations and/or classes filling up. Payment can be completed with cash, check, or Visa/Master Card/Discover.
Drivers License must match address on the check. Checks must be from a bank in DeKalb County. NSF checks will be assessed a cash fee of $25. Cash payment for registration is required before continuing any services from the Park District.
Programs are subject to change and/or cancellation due to enrollment or facility changes. For questions regarding program availability or registration, please call Haish Gym at (815) 756-8560.
View the Winter Program Guide!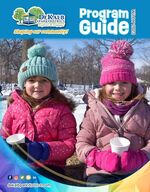 ---
Program Cancelations
The success of a program is dependent upon meeting minimum registration. The decision to cancel a program can be made as early as five business days prior to the start of a program. If a program is cancelled, staff will attempt to contact participants via phone or email. Unless a refund is immediately requested, fees for cancelled classes will be credited to the household account balance and can be used for any program or membership in the future. Delayed refund requests for cancelled classes can be processed by calling the main office at (815) 758-6663. Avoid program cancellations, please register early!
Refund and Transfer Policy
NOTE: In order to receive any refund, please complete a Refund Request Form.
1. ) Participants will receive a full refund less a $3 administrative fee if they are dissatisfied with the program after the 1st class meeting. A refund request form must be submitted at least 24 hours before the 2nd class meets to be eligible for the refund. Private lessons and leagues must be cancelled seven(7) days before the start of the class to be eligible for a refund.
2.) Refunds are credited to your household account or mailed in check form upon request. Checks take approximately 2 to 3 weeks to process.
3.) After the first week of a program/class no refunds will be granted unless the program/class is cancelled. Refund requests received after the first week of a program will be honored if the request is due to a medical condition and accompanied by a physician's note. Refunds will be pro-rated based on participation and assessed the administrative fee.
4.) Unfortunately, we are unable to issue a refund for a gift certificate. Gift certificates may be used toward any Park District facility, program, or trip.
5.) A refund request for trips or one-day programs must be received 1 week prior to the day of the program; refunds will be prorated based on the program costs incurred prior to receipt of the request.
6.) If you have an outstanding household account balance, any refunds will be applied to that balance. Fee Assistance & Fee Waivers are available to qualifying residents of the DeKalb Park District. Applications for fee assistance are available at any of the Park District office locations and should be submitted two weeks prior to the start of the program. Copies of your most recent tax documents or equivalent income documentation, current housing documents, and drivers license or state ID showing residency are required at the time of application. Fee waivers do not apply to private lessons, material fees, programs less than $10, or programs which the District designates due to costs. Late Pick Up Fee: Please make every effort to pick children up from programs on time. Fees will be assessed for children picked up late from a program.